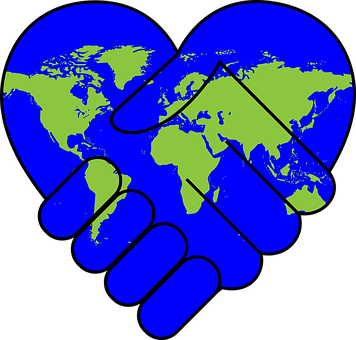 Away from hate
United for LOVE
By: Ashraf
I want to write a poem
but my words don't form a rhyme.
I want to write a poem
but the ghost of my inspiration
Disappeared and gone
I want to reach out to you.
YES!
You and
you and
you.
But, you snub.
Push me away.
YOU?
... you are a Muslim.
I am gay.
You hate me
so please go away!
YOU?
... you are a Christian.
I am an atheist.
You and I are truly apart.
YOU?
You are white.
I am black.
Can you notice the difference?
Don't be stupidly blind –
notice my color
my beauty & uniqueness
my skin's gorgeous hue.
Please go get lost
you've already done enough
from the beginning of time
with your evil & continued menace.
Everyone seems mad
widening this huge existing gap
creating more distance
tearing each other apart.
Voices get muffled,
paths foggy,
destinations unknown.
I plead...
please, please come over.
Let us UNITE
leading us to a clearer path,
a surer destination.
The path of love.
But, my words are garbled.
My poems have no rhymes.
My path seems cliché
It doesn't register
or calm.
So we all keep moving,
carving our own path of lines
drawn in the sand
made of many tribes
each against the other.
Unity is a dream,
the halo over our heads.
So I keep repeating,
please let us unite.
Unity is our way
Savior is you and you and you
The men in the mirror
The only path is love.
But, my words are garbled.
My poems have no rhymes.
So I keep carving my own path of love
alone
and alone.
The Sound of Silence
By Ashraf
love the sound of silence
palpating the air
like a gentle breeze
passing through my hair.
love the sound of silence
like a calming wave
making love to the shore –
rhythmically melodic
and soothing one's soul,
vibrating the cells within its core.
I love the sound of silence
filling up the air
like the smell of jasmine
or roses.
Nowhere to be seen
Yet, an aroma so intense
spilling over
intoxicating the air.
I love the sound of silence
filling up the air,
reminding me of you
without a sound.
Whispering
delightfully in my ear!
I love the sound of silence
retelling me of you.
Never here
never around
yet never absent
Never far,
Ilove your soundless sound
screaming at my soul
through the window of my mind
singing love songs
shattering my core
touching my
essence
being &
soul
without ever being here!
Never present,
yet, never away.
Like a sound of silent
palpating,
surrounding me
like oxygen in the air!

Posted 10.29.2018
Rising like a Simorgh (Persian Phoenix)
By Ashraf
When the road reaches a dead end
When the walls finally cave in
When the darkness penetrates
Sealing the cracks
Covering every ray of light
The darkness of dark
Ruled & reigned in –
I rise like a Simorgh.
When one lost its voice
After thunderous screams
When hurricanes of injustice
Wiped everything
When a fiery blaze of corruption
Burned up justice into smoldering ashes –
I rise like a Simorgh.

When all traces of happiness and joy
Collide into a dead end
and vanish like a drop in the desert
When the hope is all but gone
Prayers unanswered
The end is near & everything is wiped out –
I raise like a Simorgh
Too high, high above
Where there is nothing but light
Joy and soulful delight
No places of corruption or greed
No deception or deceit
Leading to an oasis of calm
Conquering peace within
I rise and I rise
Traveling layers and layers
Inward
Diving in
Inside the universe within
Tearing the pages of darkness
Opening a window to light
Rising from the ashes
Left deceptively behind
Searching & finding the heat and energy beneath
Creating a fiery blaze
Breaking nuances
Strengthening the voices
Traveling the never-ending roads
Divulging in
To find all answers within.
Rising like a Simorgh,
A traveling universe inside
Within
Intact
Hidden
Untapped treasure
Enabling the "Me"
So the "I" within
Can raise like a Simorgh
Only through traveling within
Discovering
Divulging
Diving in
So the "I" can rise like Simorgh –
From the ashes AGAIN!
UPDATED 09.06.2018
I wish I had a wand
By: Ashraf
I wish I had a wand
to spread contagious virus of love
Compassion so magnificent
Everyone is kin
Invisible to their color of skin
Religion is personal
Countries unique
respected
Language simply to communicate
Accents &errors ok-
No need to be perfected.
I wish I had a wand
Turned police shooters
of unarmed black man
to ponder
What if he was my son,
committing a big or small, insignificant crime?
Or
Invaders
ordering the bombs-
in foreign lands
Think
Wonder what if this was my home
my country
my family?
Hiding in the dark,
Praying
Please.. please my God
help me to stay alive.
What if we placed ourselves
In the places of women we rape
crimes we commit
Lives we destroy or permit?
I wish I had a wand
Spreading sprinkles of love
to the heart of every mankind alive
turning the world upside down
in a positive way
succeed & strive.

LOVE splashing over
washing away the HATE,
Ending the outdated cavemen fear
Permanently eroding it out of our sphere
Cherish our differences
break our inner walls
destroy our egos.
Once for all
Away from MY way-
& having it all
Change color of our perceptions
our lenses
Leading us to our perpetual deceptions
Push us all to fight.
Run away and flight.
Solve our issues instead
With awesome compassion
Using our common scenes
our inner wisdom and perfection
Turning the world
to a calming oasis of love
Serenity rampant, persuasive
Allowing us to find
Beauty in each and every kind
Wisdom in every culture
In persuade of happiness
With equal rights at its foundation and bases.
I wish I had a wand
Spreading love
Within each person
so we can bring peace to others.
Calming the storms
Healing the diseases of hate,
Letting love be our ULTIMATE faith.
Justice be our guiding light
Taking every effort and every plight.
Healing our own nation
our own soul
Thriving everywhere
Starting deep within our core.
If only I had a wand!
Destroyed "I"
By: Ashraf

The energy is expanding inside,
again& again.
Twirling like a tornado,
uprooting,
removing it all.
The debris
dancing,
floating in the air,
falling on the ground,
leaving destruction behind.
All that is left
is my drained physical being.
Outraged,
wondering
Why you feel free to get in
brazenly.
Storm
destroying my house of being
the "I"
the tranquility within
& leave.
No permission asked.
Yet feeling the longing,
I ask for more.
Even while you revamp my
body &soul,
my entire being,
the awareness of your force of
love
lets me know
that in love
there is no ego.
No you or me,
But we.
So stay.
Be mine(yours?)
Let us built
tranquility within
with you &I
as one,
as "we"
dancing to the foolishness of our infinite imagination.
For ever.
Submit to the power of we!